BOBOVR Z5 3D VR Box Glasses Virtual Reality Headset Cardboard
Explore bigger world:
BOBOVR Z5 connected with Daydream platform, it is more easy , interesting and economic to experience the VR.
Unbelievable adventure:
9-axsi IMU of the VR controller can tracking your movements on your hands,
use together with BOBOVR Z5 wil make the interactive easier, and more like reality.
FOV120:
Our custom-made VR lenses offer the most immersive feeling with a 120 Degrees Field Of View.
IPD , Focus Adjustment:
IPD and Focus can be adjusted to adapt to your eyes.
IPD adjustment function enables the distance between the lenses to correctly match every user's interpupillary distance (the distance between the centers of the pupils in both eyes) to have extended range.
Undoubtedly, the ideal solution for glasses wearers would be focus/diopter adjustment, allowing no glasses to be worn, but enabling users to adapt the lenses to their exact vision prescription.
Comfortable & Soft Design:
The selection of baby skin raw materials, the Nordic gray and skeleton design blend together, supplemented by advanced
processing technology, to achieve comfort, softness, non-slip, wear-resistant.
Specifications:
General

Brand:BOBOVR

Model:Z5

Type:VR Headset

Quantity:1 Piece

Color:White

Material:Lycra fabric (nylon + spandex) + cloth+ABS+PC

Specification

Lens(spherical/aspherical):aspherical

Lens Diameter: 42mm PMMA

FOV:120 degree

Primary Button Type:N/A

Wearing Eyeglass Directly:Yes

Headstrap Adjustable or Not:Adjustable

IPD , Focus Adjustment

IPD:60-72mm

Focus:0-10mm

Compatibility

Compatible Device: Smartphones

Compatible Size:4.7-6.2inch

Dimensions , Weight

Dimensions:26.2 x 22.4 x 11.7cm

Weight:350g

Package Contents

1 x BOBOVR Z5 3D VR Glasses

1 x User manual

1 x remote control for daydream
Package List:
1 x Xiaozhai Z5 3D VR Headset
1 x User Manual
1 x Retail Box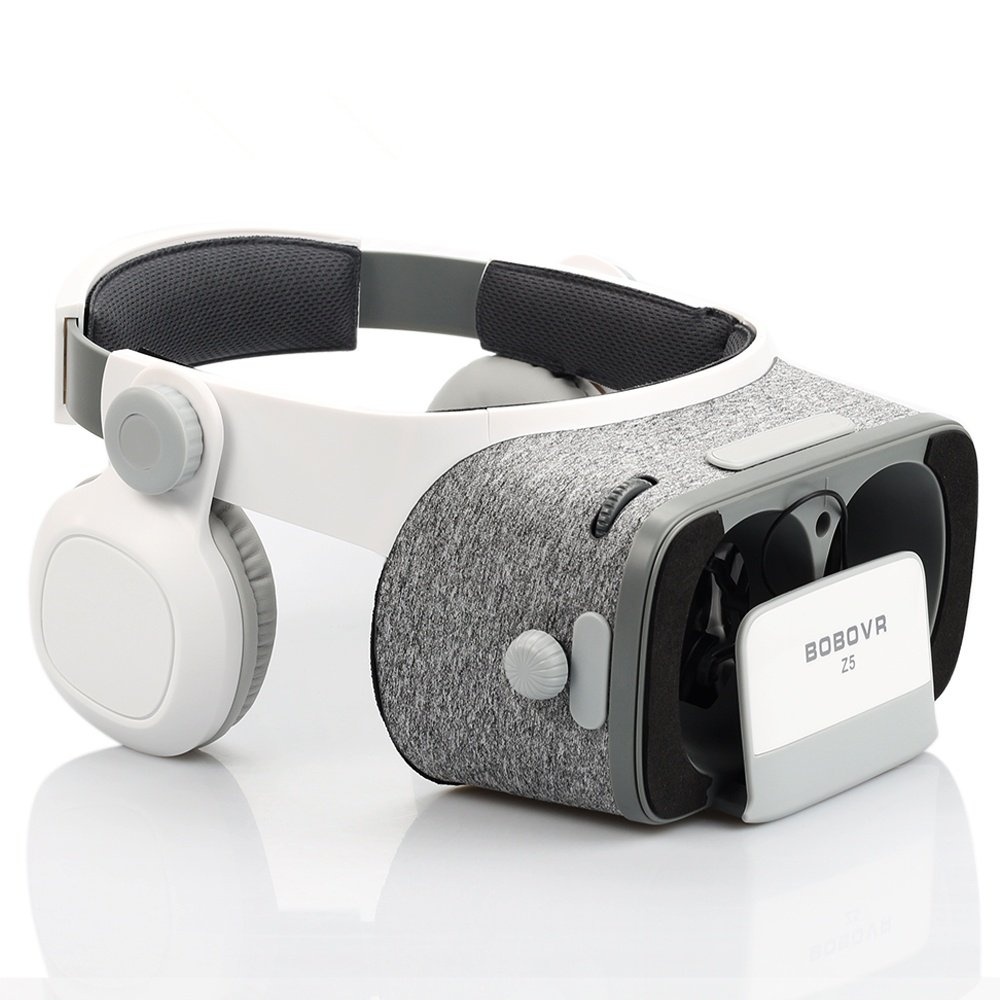 Write a review
HTML is not translated!
Rating:
Bad
Good
Enter Captcha: